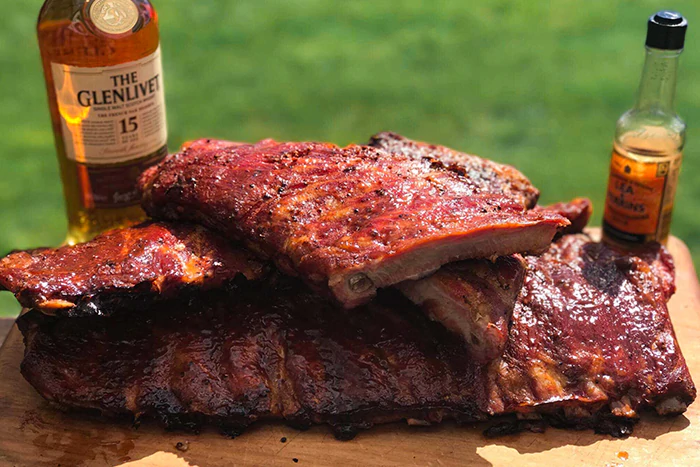 INGREDIENTS
Ribs
Peanut Oil
All-Purpose Seasoning Blend (salt, pepper, and garlic)
BBQ Rub
Apple Cider Vinegar
Honey Butter
Brown Sugar
INSTRUCTIONS
Prep your ribs. Remove the membrane which is a thick plastic-like skin over the boney part of the ribs. Removing this allows the smoke to penetrate the meat better.
Apply seasoning. Rub the ribs with some peanut oil then apply an all-purpose seasoning blend as a base which consisted of salt, pepper, and garlic. Then hit them with a BBQ
Place your ribs onto your smoker with bone side down and smoke for 2 hours at 235° Every 45-1 hr sprints them with an apple cider vinegar water mix to maintain moisture.
After 2 hours remove ribs from the smoker. Place ribs on some tin foil and apply some honey butter and brown sugar to the top first. Flip ribs over and apply more honey butter and brown sugar. Wrap up the ribs with the tinfoil making sure not to puncture the foil. Return ribs to the grill meat side down. Smoke for another 2 hours at 235°
Once 2hrs is over, remove the rids from smoker and check tenderness. When removing from the smoker your ribs should have a nice flex to them so be careful while transferring them. You want to see some good pull back on the bones. If you can pull and wiggle the bones and they seem loose but will not separate you are good to go. If you do not see this you may need to return to grill and cook for a little longer checking periodically.
Once tender, apply your favorite BBQ sauce. Remove the ribs from the tin foil and apply BBQsauce top to bottom. Return ribs to the smoker for 1hr. at 235 °F or until the BBQ sauce has thickened up and become tacky.
Remove ribs from the smoker and let rest for 10-15 minutes.
Slice and enjoy!
---